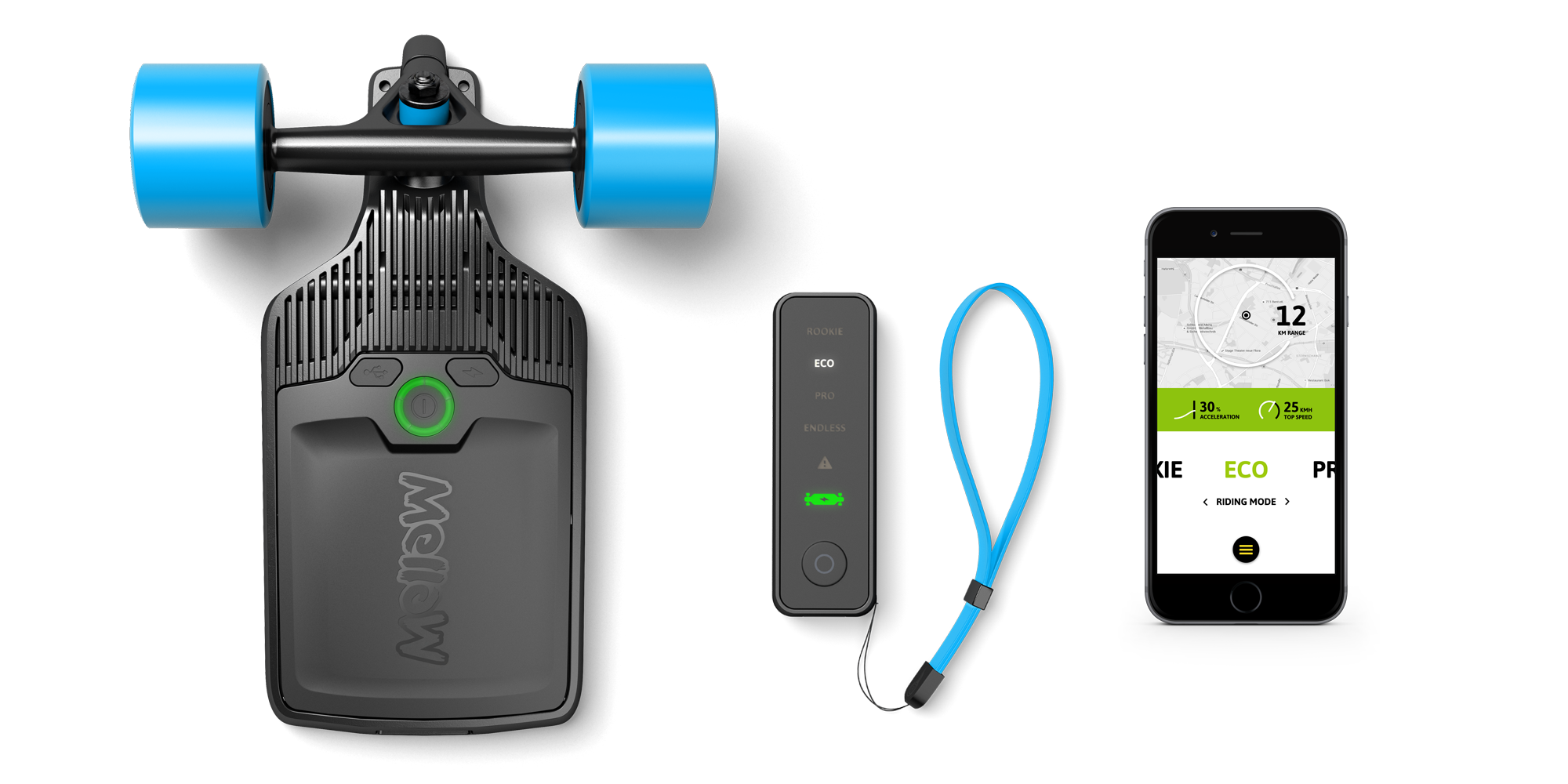 TAKING THE ASPHALT SURF
TO THE NEXT LEVEL
The Mellow Drive is an electric truck that fits any skateboard. It brings you the sensation of surfing and snowboarding on your daily trips through the city. As a quality product Made in Germany it also offers a durable and sustainable ride that has the potential to change the way we think about urban mobility.
THE MELLOW STORY
It all began with two brothers in spirit searching for the endless ride. Today Mellow is among the top 10 e-mobility start-ups in Europe.
Voices from the street
I must say I am very much too stoked to see this. You guys are gonna kiiiiiiiilllll it!!!
Pablo Castro, International Sales Director @ Loaded Boards, Inc.

After having spent endless hours comparing all the electric boards available, their makers and their visions, I want yours and only yours.
Wilson Henley

With Mellow you are streets ahead of the competition.
Thore Vogt

You absolutely nailed the concept, this is the first electric board that gets all details right!
Andreas, Kickstarter Backer

Your project finally convinced me to invest in an electric longboard!
Nik, Kickstarter Backer

Electrifying any skateboard in such an easy and sophisticated way is absolutely game-changing.
Bruno, Kickstarter Backer


WHAT THE PRESS IS SAYING
12.02.2016 Shutterstock
»Der kleine Tesla aus Deutschland«
26.05.2015 Der Spiegel
Brettern im Kopf
27.05.2015 GrindTV
Mellow is a skateboard motor like none other
30.10.2016 Concrete Wave
Under the hood
12.05.2016 Mashable
Mellow Drive Electric Skateboard Kickstarter
03.04.2017 Gründerszene
Mellow Boards baut E-Antriebe für den Andrenalin-Kick